Test Services
Test Services
---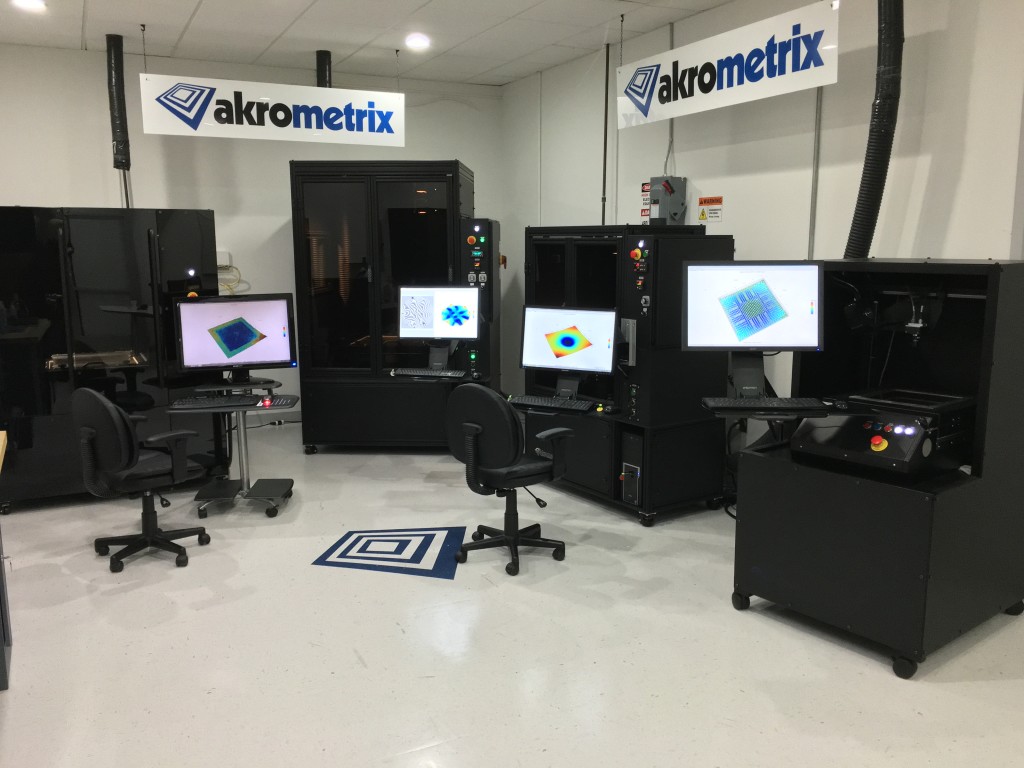 Akrometrix offers fast, flexible and accurate test services for:
Flatness, warpage & coplanarity of PCBs, substrates,
ICs, packages, whole wafers and wafers on film frame
In-plane deformation (strain) and CTE measurement
Form factors ranging from 2 x 2 mm to 600 x 600 mm
Dynamic temperature profiling from -55oC-300oC
Test Services are performed at our state-of-the-art applications lab in Atlanta, Georgia, utilizing our latest generation equipment.
Akrometrix' flatness characterization and analysis solutions provide sub 2-second data acquisition during dynamic temperature profiling. Profiles can be customized to match heating rates found in production ovens. Standard pricing includes 6 discreet measurement points along a profile of your choice.
Akrometrix encourages its clients and prospects to visit its Atlanta, Georgia testing facility to participate in the testing process and review the results in a customized data format consisting of 3D surface plots, 2D contour mapping, 2D diagonal plots, coplanarity tables, and displacement matrices to enable better understanding of the data. Our application engineers are always available for data interpretation.
Sample Flatness Testing Applications:
PCB/substrate characterization at temperature
Pb-Free processing implementation
Validation of Finite Element Modeling (FEM)
Supplier performance and conformity monitoring
Evaluation of different materials and constructions
Failure/defect analysis
Machined component flatness checks
Check out our Testing Applications Document
for a more complete look at the kinds of samples that can be tested with our measurement techniques.
Services are available on a per part or project basis. Please fill out our Test Services Sample Information Form and send it to sales@akrometrix.com so that we can provide you an accurate and timely quote for your thermal warpage and strain test needs.