Products
CXP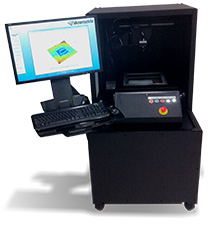 Cost Effective Thermal Warpage Measurement Tool
The CXP (Convection Expandable Platform) is a low cost, stand alone equipment primarily targeted at the EMS, PCB Fab, and Socket/Connector Markets. The CXP uses the Digital Fringe Projection technique to measure a field of view of 64x48mm with a measurement resolution of 5 microns. The DFP solution fits especially well with discontinuous surface applications, such as sockets, connectors, and balled samples. The CXP use the same Studio software used to run the Akrometrix TherMoiré® platforms.
The CXP uses a convection oven for heating and cooling and includes a 2MP camera and projector for DFP measurements. The CXP oven can hold samples up to 125x125mm in size and the 64x48mm field of view is movable around the full oven field of view through a sliding gantry.
The CXP provides a cost effective solution for customers looking to adhere to the IPC 9641 industry standard concerning measuring local board warpage.
The CXP can be used in the laboratory:
Failure/defect analysis
Quality assurance/quality control
Shape matching between attaching interfaces via Interface Analysis Software
Material and Design Choices
FEA Model Validation